Join us to listen to local artists.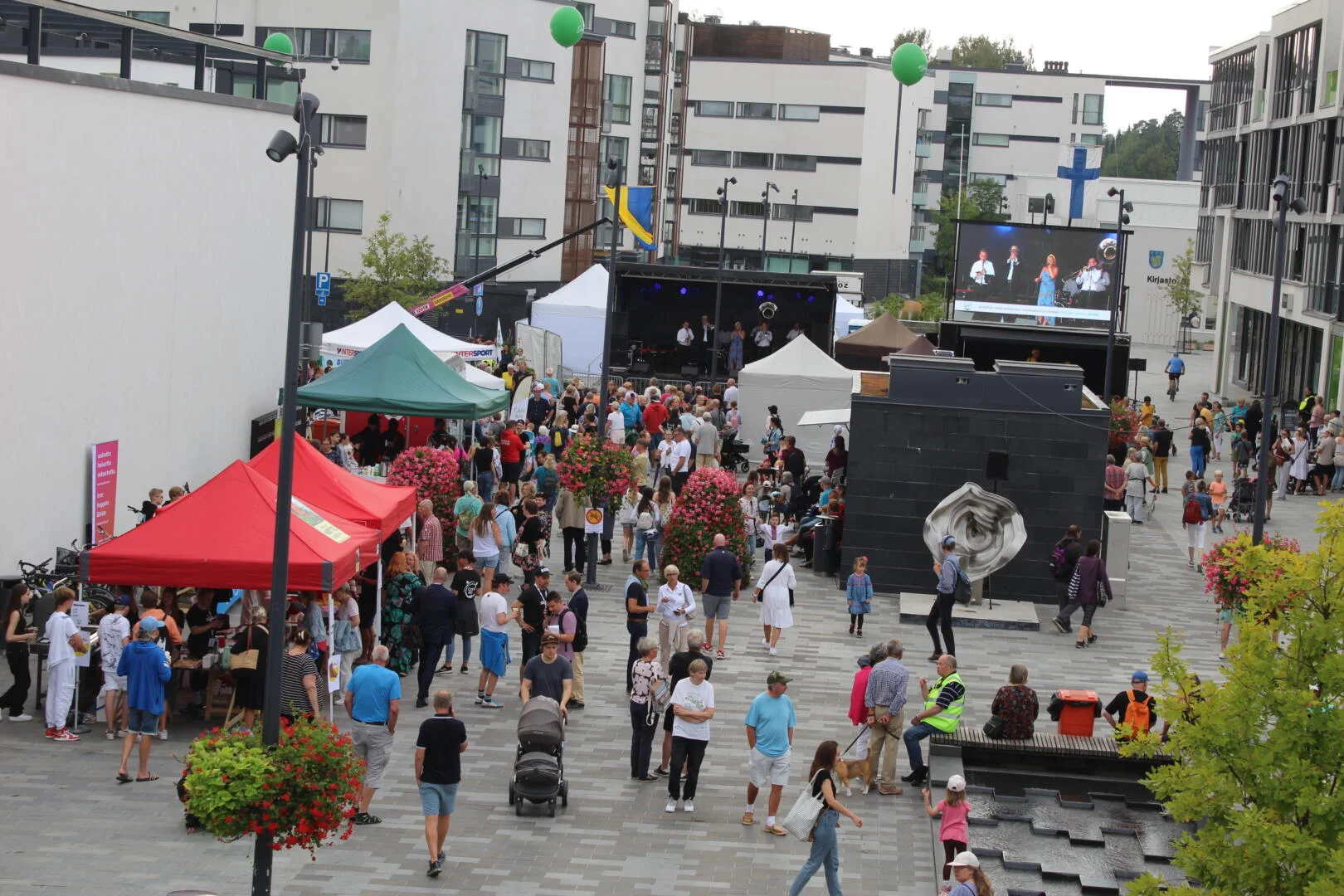 More than 20 representatives will come to the market to present and sell their products.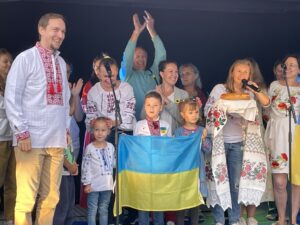 Come and celebrate Ukraine's National Day with us.
Join the GraniAID Charity Festival 24.8.2023
The GraniAID charity event was held for the first time last year, accompanied by national media coverage:

The collection was targeted at local young people and Ukrainians refugees. The funds raised were channelled through the local charity, Grani Lähiapu, to their destinations.
The event was a success by all standards. In addition to the media, an estimated 3 000 visitors attended the event during the evening, on site at Kauniainen Market. The more than €20,000 raised for charitable distribution exceeded all expectations and sets this year's target even higher.
GraniAID 2023:
This year the venue is Kauniainen city centre and in addition to the stage programme and festival event, there will be lectures on wellbeing.
The event will take place in the centre of Kauniainen 24.8.2023 at 17 – 22
Watch a video of last year's charity festival:
Headline act Redrama at 21:10!
The event will take place in the centre of Kauniainen 24.8.2023 at 17 – 22
17:00 Opening of the event
:Mayor Christoffer Masar
17:20 Ukrainian national anthem
17:30 Raka Bananer
Raka Bananer offers a colourful musical adventure where themes from children's everyday lives meet West African rhythms, dance and play. In interactive live performances, the themes of our songs come to the fore, such as divorce, refugee children and rainbow families, the courage to sleep with a friend for the first time and so on. The topics are sung and played with an open mind and from the child's point of view. Above all, we strive to bring joy, presence and community to our gigs. Jump on board our rhythmic journey!
17:50 Panel discussion
Panel discussion with Jarno Limnell, Taru Ikäheimonen, Virpi Sarasvuo and Sakarie Ahmed Nuur. Don't miss out!
18:15 Mimmit
Mimmit is one of Finland's best-known children's music groups. The Mimms have performed more than 850 concerts in Finland and abroad and have released eight albums in Finnish and one in Swedish. "Friendship" was chosen as the children's album of the year 2017. In total, Mimmie's albums have received three Emma nominations. Mimmit music videos have been viewed over 13 million times on YouTube and Mimmit songs have been streamed over 6 million times! Mimmit animations have been sold in more than 40 countries.
18:35 MOVE
MOVE's Victor will move the festival crowd. Loosen the hips!

18:45 Granhult Choir
Skolans kör Granhultskören välkomnar alle elever som vill sjunga med i verksamheten! The Granhultskören runs every week and is held both in and outside the school. Come and sit down!
19:05 Greetings from Ukraine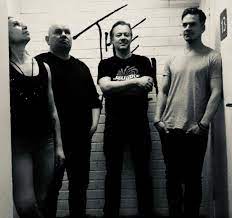 19:20 Jelly Dixx
Jelly Dixx is a Helsinki-based rock band, formed in 2018. The band's punchy sound draws heavily on traditional 80s and 90s hard rock, skilfully spiced up with today's modern rock tones. The band released a new Troublemaker EP in the spring and have been touring actively since then. The band consists of Kimmo Tuira (gr), Jaana Wuoma (vc), Antti Rehmonen (dr) and Harri Laajarinne (bs).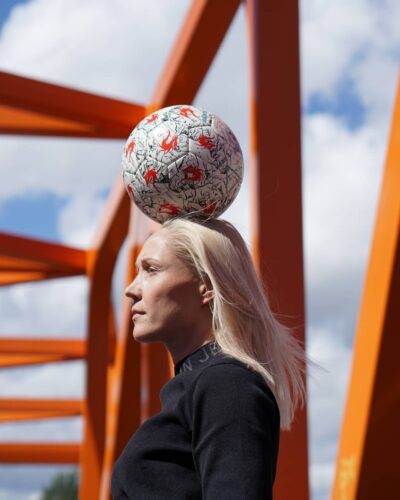 19:40 Minna Marlo
Minna Marlo, 41-year-old entrepreneur from Kauniainen. My family includes a 12-year-old girl, a husband and a dog. In freestyle football, I am on the board of the world governing body (WFFA, Head of Development). As a freestyle football player, I am among the 16 best women in the world.
19:50 Kauniainen Music Institute
The adult accordion group of Kauniainen Music Institute performs Beatles songs arranged for accordion.
20:10 Laura Airaksinen
Laura Airaksinen is a singer-songwriter who spent her first twenty years in Grani. He studied cello and piano at a local music school, played in an orchestra and sang in a choir. In GraniAid he performs with guitarist Riku Rajamaa. During the year, new music has been recorded, some of which will be premiered at the event.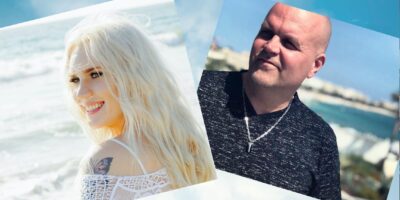 20:30 Jannike Sandström & Niklas Rosström
Jannike Sandström is a solid music professional and multi-talented musician from Kauniainen. Since the age of three, he has performed in numerous concerts, as a soloist, musician, musical director and arranger (including as choir director of the official Finnish Lucianeido), and has worked as a soloist, musician, musical director and arranger. Jukka Poja, Loreen (Sweden), Jari Sillanpää, Jennifer Brown (Sweden), Robin and Katri-Helena.
Niklas Rosström is an entertainment and television producer who has made countless live and television productions over the years.He is also a songwriter and music producer, and has participated in the Norwegian Eurovision final for the last three years. Niklas has worked with most of the major Swedish and Finnish artists such as Bo Kaspers Orkester, The Ark, Tomas Ledin, Peter Jöback, Sanna Nielsen, Robin, Rajato, Diandra, Juha Tapio and others. and has also written and produced 10 musicals, some of which have been exported to both Germany and China.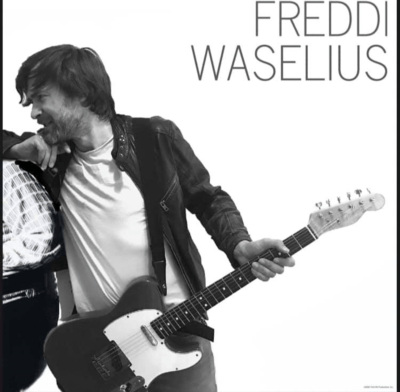 20:50 Freddie Waselius
Kauniainen's own Freddi performs in convincing style!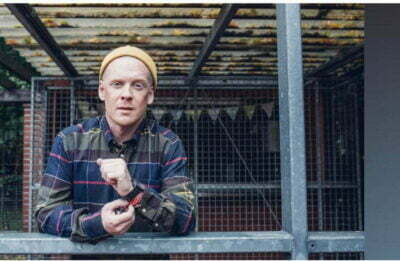 21:10 Redrama
- It feels very good to be back in Gran. I've only done one gig here before, and that was a visit to a secondary school. Since I grew up in this city, it feels really great to be able to do this," says Lasse Mellberg to Kaunis Grani.

On stage in Kauniainen, he will perform "some old and some new" music during the evening.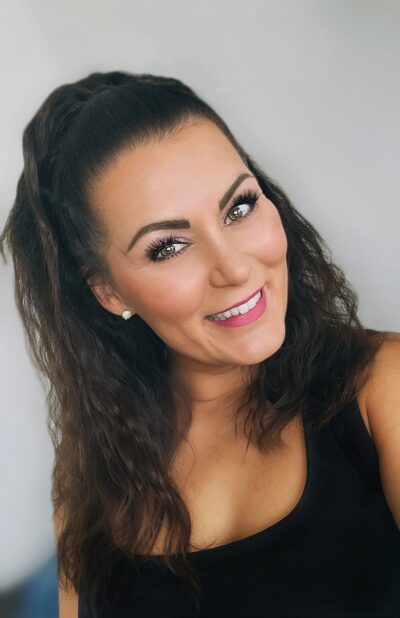 Marianne Harjula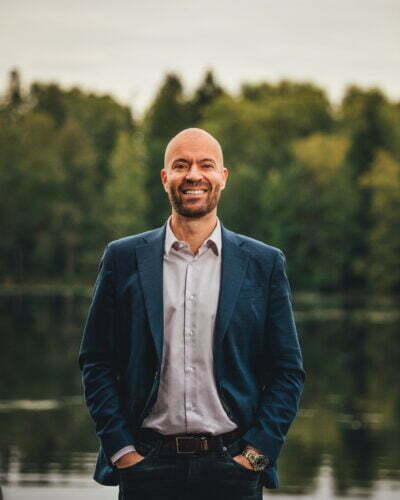 Marc Moberg
Where to collect for the GraniAID event?
The funds raised by the event will be channelled through the charity organisation Grani lähiapu in Kauniainen.
Below are the sponsors and supporters of the event:
Read more about sponsors and supporters by clicking on the logo.
Are you interested in working with us?
Do you want to increase the visibility and value of your business, while supporting important charitable work?
Come and join us! Contact us now:
Antti Harsunen 0406879090, antti.harsunen@gmail.com